Corsair Vengeance 1500 Dolby 7.1 USB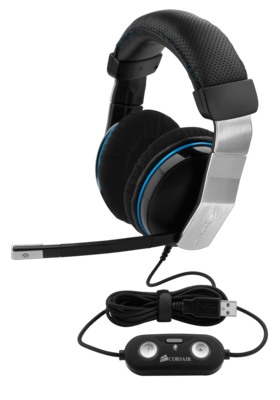 I was looking for a new headphones/microphone combo. I've got a game PC again, so I play at night from time to time and keep my mother awake due to not having a headset.
I also needed something for Skype. For my Game PC I could use the on-board analog plugs. But things like watching movies and anime, listening to music,… I do from my MacBook Pro.
Although I could probably reach the analog ports if the headset had a long cable, my experience is that the plastic wires don't generally like to be crammed together with a bunch of other cables. But to my surprise most seem to be USB these days. Not a big issue, my Logitech G110 keyboard has one of those analog to USB audio port converters. It works fine on OSX. But according to the internet, that is not always the case :s
I ended up going for the Corsair Vengeance 1500 Dolby 7.1 USB.
Although it was not mention on the Corsair product page that it worked on OSX, I did find some people who got it to work. I'm now one of those 🙂.
So what about quality? I'll be short. Feels sturdy, mostly plastic with some metal but feels very nice. The cable is also one of those nylon ones, I really like those so that is a plus for me.
I'm no audiophile, but they sound pretty decent when listening to music. Nice deep bass, high notes seem clear as well.
I played some action scenes from some movies I had laying around, they sound wonderful too, as good or maybe even better than my external 6.1 speakers from Logitech. Do note this was on mac so I have no idea if the 7.1 was working or not.
The microphone is also very clear, way better than the bluetooth earpiece I've been using.
During gaming there is a slight crackle, however this was only in UT3. I did not have this issue with steam games.
I do have a slight discomfort where the headphones are a bit tight, but I have that with all headphones so I can't really flow them for that.
Overall my first impression is very good.